Camping Bijela Uvala
Croatia - Croatian coast - Istria - Poreč
About Bijela Uvala
In total 3 pool complexes with children's pools
Cosy restaurants and bars at the campsite
Tourist train to the charming village of Porec
Camping Bijela Uvala in Croatia is a luxury family camping in a forest region of Istria. The camping is located in beautiful surroundings with azure blue waters and islands off the coast. You can easily reach Poreč from Camping Bijela Uvala using the tourist train. There is also plenty to do at the camping itself, with 3 pool complexes and entertainment for young and old. All the ingredients you need for an amazing holiday in the sun.
Three pool complexes
There's no shortage of swimming pools at Camping Bijela Uvala There are three pool complexes, including one by the beach and one in the Roan mobile home zone (Supreme Lounge and Bijela Special). Kids can enjoy the shallow children's pools and exciting water playgrounds.
Enjoy the beach
Camping Bijela Uvala is right on the beach, a mix of pebbles and rocks. The beach has a Blue Flag rating for clean seawater. We highly recommend snorkelling or diving in the crystal-clear waters among the rocks off the coast. On the beach you can rent sunbeds and beach umbrellas.
All facilities necessary
Our Roan mobile homes are beautifully located on terraces and the lodge tents are close together. Several mobile homes are located in a beautiful car-free part of the camping. You can park nearby and our staff are available to help you with your luggage. Both our mobile homes and lodge tents are fully furnished. The camping also boasts plenty of different facilities such as a bakery, fruit & vegetable stand, supermarket, kiosk, washing machines and many more.
Camping activities
Fancy a bit of sport during your holiday? You have plenty of options at Camping Bijela Uvala. From tennis to beach volleyball to numerous water sports, the possibilities are endless. There are also plenty of things for kids to do. During peak season the entertainment provides a wide range of fun activities for them. The camping also has playgrounds, pedalos, a mini club and a mini disco. In the evening they can enjoy a drink or snack in the restaurant with its stunning view over the sea.
Fun day trips in Croatia.
Want to visit Poreč during your stay at Bijela Uvala? There is a tourist train that goes from the camping to this beautiful historic village. Stroll along the boulevard past street artists exhibiting their work or take a seat on one of the terraces. We also recommend visiting the limestone cave of Baredine, one of the most beautiful caves in Istria, or the picturesque town of Rovinj, only 20km from the camping. Ever heard of the smallest city in the world? That title is held by Hum, with fewer than 30 inhabitants and 12 houses. Certainly worth seeing, and there are also great hiking routes in the area. Want more water-based fun? Visit Aquacolors water park, with its water attractions and swimming pools.
There's plenty to see and do during an amazing holiday at Camping Bijela Uvala. Discover the possibilities and book a holiday at this top camping now!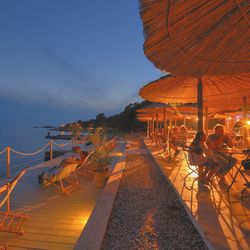 We have had a great holiday with you guys.
The shade that a party tent can provide was crucial in booking with you. The tent was situated in a quiet spot on the campsite, which we found to be very pleasant. And as a surprise there was a fan in the tent, this was above our expectations! Thank you for a great holiday and goodbye.
Roan Guest Score
About the campsite
Suitable for: Babies and toddlers, Children (5-11 years), Teenagers (12+)
Beach: pebble, plateaus, direct access to the beach
Distance from Calais: 1541 km
Campsite size: 2220 pitches
Nearest town: Poreč, 5 km
Pets: Allowed, in tent en lodge tent Holiday
Wifi: available in many areas of the campsite (free of charge)
Nearest airport: Pula 56km, Rijeka 118km, Triëst 129km
Additional tent: not allowed
At Roan on this campsite
Barbecue: charcoal
Roan-children's bikes (0-6 year): Free for all children from 0 to 6 years
Roan couriers: yes
Select your own pitch on the campsite!
Swimming Pools
Swimming hats not required
Slide(s) in children´s pool
Children's pool
Sun loungers at swimming pool (fee charged)
Stone patio at pool
Several swimming pools 5/1/22 - 9/25/22
Shorts allowed
Swimming pool
Freshwater swimming pool(s)
Swimming pool is not heated
Beaches
Boat buoys
Boat ramp
Boat crane
Direct access to the beach
Inflatable water park at sea (extra costs)
Pebbly beach
Paved beach area
Rocky beach
Beach: Sand
Water sports
Canoe rental
Windsurfing
Sailing
It is possible that not all facilities / amenities are open during the low season. The given start dates and end dates for swimming pools and entertainment are subject to change. Some facilities / activities at the campsite require you to pay a small fee.
Facilities
Disco not far from the campsite
Excursions
Cash point
Hairdresser
Safety deposit box hire
Massages
Beauty parlour
Games room
WiFi: available everywhere on the campsite (free of charge)
Children's play area
Roan Preffered pitch
Sports/activities
Basketball
Beachvolleyball
Pool/Billards
Bike hire
Fitness
Mini golf
Horse riding
Table tennis
Tennis
Trampolines
Fishing
Football
Volleyball
Entertainment
Day and evening entertainment 5/25/22 - 9/15/22
Children's club
Children's disco 5/25/22 - 9/15/22
The entertainment programme is usually limited during the low season
Food and drinks
Takeaway
Bar
Various restaurants
Ice cream parlour
Snack bar
Beach bar
Shops
Baker
Greengrocer
Newspaper stand
Souvenir shop
Well stocked supermarket
Fish market
Communal toilet and shower facilities
Showers
Disabled bathrooms
Disabled toilets
Children's sanitary facilities
Drying facilities
Washing machines
It is possible that not all facilities / amenities are open during the low season. The given start dates and end dates for swimming pools and entertainment are subject to change. Some facilities / activities at the campsite require you to pay a small fee.