More than 30 years of experience
Zoover Award 'Best Camping Holiday'!
Own representatives at all campsites
Most popular campings
Union Lido
Italy - Adriatic coast - Cavallino
2 large pool complexes with long slides
Mobile homes close to Laguna aqua park
Near the lively seaside resort of Lido di Jesolo
Bella Italia
Italy - Lake Garda - Peschiera del Garda
Huge pool complex with 8 swimming pools
Plenty of facilities for guests of all ages
Great restaurants with amazing views of Lake Garda
Le Serignan Plage
France - Languedoc-Roussillon - Serignan Plage
Large children's pool with fun water features
Mobile homes on sheltered pitches near the pool
Visit Aqualand in Le Cap d'Agde
The Zoover Award 2019
Best Camping Holiday Company! For the fifth time we, Roan Camping Holidays, have been awarded this prestigious travel industry trophy. In the past we won this award in 2013, 2014, 2015 and 2018. Thanks you so much happy Roan guests for voting for us!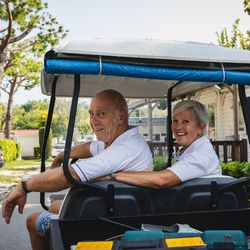 Making sure our guests have a great holiday!
We have been working as Roan Camping Staff Members for several years now and we enjoy doing that! The day starts with checking in arriving Roan guests and parting with those who are at the end of their stay. We welcome the new arrivals with a drink and say goodbye to the ones that are leaving us. When guests express they had a great holiday and return home satisfied, that is when we are happy. An excellent start of our day!