Camping Le Serignan Plage
France - South of France - Languedoc-Roussillon - Sérignan Plage
About Le Serignan Plage
Large children's pool with fun water features
Mobile homes on sheltered pitches near the pool
Visit Aqualand in Le Cap d'Agde
Looking for a top camping on the south coast of France? Be sure to check out camping Le Sérignan Plage. The camping is situated on the wide sandy beach of the Méditerranée, between Cap d'Agde and Narbonne. Both young and old have a great time at this camping with a large swimming pool, a wellness centre and extensive entertainment. Here are all the ingredients for a lovely, comfortable holiday. Roan's luxury mobile homes are sheltered near the swimming pool and the comfortable lodge tents have a spacious location with an unobstructed view. Discover the possibilities at this beautiful camping in the south of France.

Swimming and relaxing
camping Le Sérignan Plage has a large swimming pool with several slides and a shallow children's pool with all kinds of play equipment. This is guaranteed to provide hours of fun for the little ones! In the meantime, you can sunbathe on the fine lawn with grass. Or go to the wellness centre for real relaxation. This is located on a private property and breathes the Roman atmosphere with various whirlpools and massage facilities. Relax in this area reserved for adults (16+). A lovely day at the beach? From camping Le Sérignan Plage you have direct access to the beach, where you can also go on lovely walks.
Attractive centre with many facilities
A friendly centre with many facilities is the heart of camping Le Sérignan Plage .The Mediterranean look with its warm colours provides the real holiday feeling here. In the small streets you will find a bakery, supermarket, souvenir shop, fish shop and a hairdresser. Here you can also enjoy a lovely snack or drink in the restaurant or on the terrace overlooking the camping. Enjoy evening shows and karaoke in the centre.
Fun for the little ones
For the little ones there is a covered playroom in the centre with air conditioning. And in the indoor pool you can swim with your little one. The entertainment is very extensive, with something for every age. There is regularly a mini disco for the youth, which closes around midnight.
In the surroundings
There is also plenty to discover during your holiday outside camping Le Sérignan Plage . For example, visit one of the places in the area such as Sérignan Plage, Portiragnes Plage and Argelès-sur-Mer. Take a stroll along the boulevard, sit on a terrace or go shopping: it's all possible here. The larger cities of Montpellier, Béziers and Narbonne are within driving distance from the camping and are also well worth a visit.
Water amusement park & go-kart track
Lovers of spectacular water slides will love the Aqualand water park in Cap d'Agde. In addition to the slides, there is also a pool with rapids where you can give me a belt. And the water device in the children's pool provides lots of water fun for the little ones. In Cap d'Agde you can also go karting on the spectacular go-kart track. That's guaranteed to give you an adrenaline boost!
Plenty to do on and near camping Le Sérignan Plage . Discover the possibilities for a mobile home or lodge tent and enjoy a great holiday in the South of France!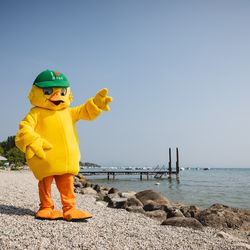 Camping Le Sérignan Plage really offers everything you could wish for a wonderful holiday!
We were also really lucky with the beautiful weather. We arrived a little earlier than the scheduled arrival time but were warmly received by Ben & Thea. Something to drink and play for the children, then a clear explanation and the fun could begin. When a light was broken, Ben immediately came to help and on our son's birthday there was a present on the table. You really feel like they're there for you to make it as pleasant as possible. Greetings from a very satisfied family.
Roan Guest Score
About the campsite
Suitable for: Babies and toddlers, Children (5-11 years), Teenagers (12+)
Beach: sand, direct access to the beach
Distance from Calais: 1059 km
Campsite size: 949 pitches
Nearest town: Sérignan Plage, 1km
Pets: Allowed on the camping, but not in our accommodation
Wifi: available everywhere on the campsite (fee charged)
Nearest airport: Beziers/Agde 17km, Montpellier 82km, Perpignan 100km
Additional tent: not allowed
At Roan on this campsite
Barbecue: gas
Roan-children's bikes (0-6 year): Free for all children from 0 to 6 years
Roan couriers: yes
Select your own pitch on the campsite!
Swimming Pools
Swimming hats not required
Indoor swimming pool 5/20/22 - 9/26/22
One or more slides at swimmingpool(s)
Children's pool
Sun loungers at swimming pool
Grass area
Several swimming pools 5/20/22 - 9/26/22
Shorts not allowed
Heated indoor pools
Heated outdoor pools
Water playground 5/20/22 - 9/26/22
Wellness center 4/23/21 - 9/27/21
Jacuzzi
Freshwater swimming pool(s)
Open from 25/04
Beaches
Direct access to the beach
Beach: Sand
Sun loungers at beach (fee charged)
By the Mediterranean Sea
Water sports
Canoe rental
Surfing
Windsurfing
It is possible that not all facilities / amenities are open during the low season. The given start dates and end dates for swimming pools and entertainment are subject to change. Some facilities / activities at the campsite require you to pay a small fee.
Facilities
Disco at the campsite
Excursions
Cash point
Hairdresser
Safety deposit box hire
Beauty parlour
Games room
WiFi: available in some areas of the campsite (fee charged)
Children's play area
Roan Preffered pitch
Tesla Supercharger
Sports/activities
Basketball
Pool/Billards
Bike hire
Fitness
Multi sports terrain
Horse riding
Table tennis
Tennis
Trampolines
Football
Volleyball
Entertainment
Day and evening entertainment 5/20/22 - 9/26/22
Children's club
Children's disco 5/1/22 - 9/30/22
The entertainment programme is usually limited during the low season
Food and drinks
Takeaway
Bar
Various restaurants
Ice cream parlour
Shops
Baker
Bazaar
Boutique
Newspaper stand
Well stocked supermarket
Fish market
Wine store
Communal toilet and shower facilities
Showers
Disabled bathrooms
Disabled toilets
Children's sanitary facilities
Drying facilities
Washing machines
It is possible that not all facilities / amenities are open during the low season. The given start dates and end dates for swimming pools and entertainment are subject to change. Some facilities / activities at the campsite require you to pay a small fee.