Camping Marina di Venezia
Italy - Northern Italy - Adriatic coast - Cavallino
About Marina di Venezia
Massive aqua park with no less than 10 pools
Accommodations on spacious, shady pitches
Near the lively seaside resort of Lido di Jesolo
There are several campings near Venice, but we think this five-star camping really stands out. With plenty of swimming pools, they'll be no shortage of fun for children, and those who appreciate a stylish design will be in their element at camping Marina di Venezia. This camping has excellent facilities and is certainly at home at Roan Camping: a lively holiday park with entertainment for young and old and just 1.5 km from the ferry to Venice.
Choose from 10 swimming pools or a child-friendly sandy beach
Camping Marina di Venezia has a beautiful water park called AquaMarina Park. It has 10 swimming pools, including a wave pool, two children's pools with slides, a paddling pool, a few large slides and jacuzzis for relaxing. From this season, you can enjoy a ride on the latest attraction at AquaMarina Park: a thrilling high slide! There will also be a third slide in the children's pool. Do you enjoy swimming laps? That's easy to do in the Olympic size pool. You can order a refreshing drink on the adjoining terrace. On the solarium deck by the swimming pool, it has been possible to use modern fitness equipment free of charge since 2021. The camping has a perfectly maintained wide private sandy beach, with a gentle slope. The sea is ideal for children. Our mobile homes are not far from the beach and beach bars and are nicely grouped together at this camping in Punta Sabbioni. It's a great place to be after a day of sun and playing in the water.
In high season, a free bus runs every 20 minutes to the swimming pool and centre/main reception. The bus leaves from the Jolly bar, around the corner from the Roan mobile homes between 0.900-13.00 and 15.00-19.00.
Own shopping centre and a variety of restaurants
Marina di Venezia camping village has plenty of facilities including their own shopping centre. The camping own shopping centre has a variety of bars and restaurants, where you can enjoy a delicious Italian ice cream or browse around the shops and supermarket. The shopping centre has recently been completely renovated. Since 2021, there has been a new supermarket, a good restaurant, coffee bar and ice cream parlour. And all this in the immediate vicinity of our accommodation. Every evening there is something on stage for the children and you can also take them to the mini-disco in the evening.
At Marina di Venezia you will also find a playground, mini-golf, bumper boats, bouncy castles, a basketball and beach volleyball court, a hairdresser and beauty salon, archery, a football academy and much more. There is also a disco not far from the camping. Are you wondering what Venice looks like from underwater? The camping even has a diving school!
Surrounding area and Venice
Camping Marina di Venezia Village is located at the tip of the Cavallino Treporti peninsula. The best way to explore the area is by bike. Marina di Venezia offers bike hire. You can start in Punta Sabbioni, with its lovely harbour. Then you can take the boat to the lagoon islands of Murano and Burano. A day trip to Venice is also a must. And you don't have to get stuck in traffic to do this. Marina di Venezia is the most conveniently located camping for visiting Venice. You are only 1.5 km away from the ferry service to Venice. The camping bus will take you to the boat departure point. With its romantic gondolas, Saint Mark's Square, the impressive Basilica and the Doge's Palace, Venice is a city you must see.
Do you want to know more about all these wonderful things to do and the types of Roan accommodation at this luxury camping? Take a look at our selection and book easily online.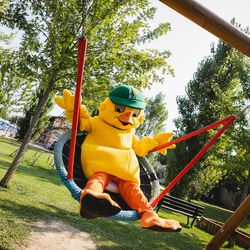 Marina di Venezia - We had a wonderful week
The reception, tips and check-out by the Roan employees at Marina di Venezia was fantastic!
About the campsite
Suitable for: Babies and toddlers, Children (5-11 years), Teenagers (12+)
Beach: sand, direct access to the beach
Distance from Calais: 1406 km
Campsite size: 3192 pitches
Nearest town: Cavallino-Treporti 4km
Pets: only allowed in Marina 8000, not in Marina 2000
Wifi: available in many areas of the campsite (free of charge)
Nearest airport: Venetië-Marco Polo 52km, Venetië-Treviso 62km
Additional tent: not allowed
At Roan on this campsite
Barbecue: charcoal
Roan-children's bikes (0-6 year): Free of charge for all children aged 0 to 6 (also for Go4Camp guests)
Roan couriers: yes
Select your own pitch on the campsite!
Swimming Pools
Swimming hats not required
One or more slides at swimmingpool(s)
Sun loungers at swimming pool
Several swimming pools 4/9/22 - 10/2/22
Water fun 4/9/22 - 10/2/22
Freshwater swimming pool(s)
Beaches
Direct access to the beach
Sun loungers at beach (fee charged)
It is possible that not all facilities / amenities are open during the low season. The given start dates and end dates for swimming pools and entertainment are subject to change. Some facilities / activities at the campsite require you to pay a small fee.
Facilities
Disco not far from the campsite
WiFi: available everywhere on the campsite (free of charge)
Charging station electric car
Sports/activities
Football complex opposite the campsite (fee required)
Football facilities on the beach
Entertainment
Day and evening entertainment 5/14/22 - 10/2/22
Children's disco 5/14/22 - 10/2/22
The entertainment programme is usually limited during the low season
Communal toilet and shower facilities
Children's sanitary facilities
It is possible that not all facilities / amenities are open during the low season. The given start dates and end dates for swimming pools and entertainment are subject to change. Some facilities / activities at the campsite require you to pay a small fee.