Comfort Lounge
formerly Verde Lounge
Air con/decking/Sat TV
Comfort is key in this Lounge model
Fully covered decking with lounge sofa
2 bedrooms for up to 5 persons
At many campsites, our Comfort mobile homes have lounge sofas and satellite TV available, but they do need to be reserved: the mobile home "Comfort Lounge".
Specifications
2 Bedrooms, up to 5 persons
Free air conditioning
Satellite TV
(Child) gate to close off the deck
Lounge sofa on the decking
Luxury floating parasol (collapsible), sun shade sail canopy or fully-covered wooden roof
Mosquito nets for all bedroom windows
Free pillows and duvets
24 m2
Living
In the living room you will find a dining area with comfortable couches, satellite TV, closet space and heating for the cooler nights. The kitchen is completely furnished. There is a large fridge with separate freezer, a dresser with gas burner with 4 rings, a coffee machine, a lot of closet space and of course warm and cold water. The bathroom has a spacious shower cabin, a toilet and a washing basin.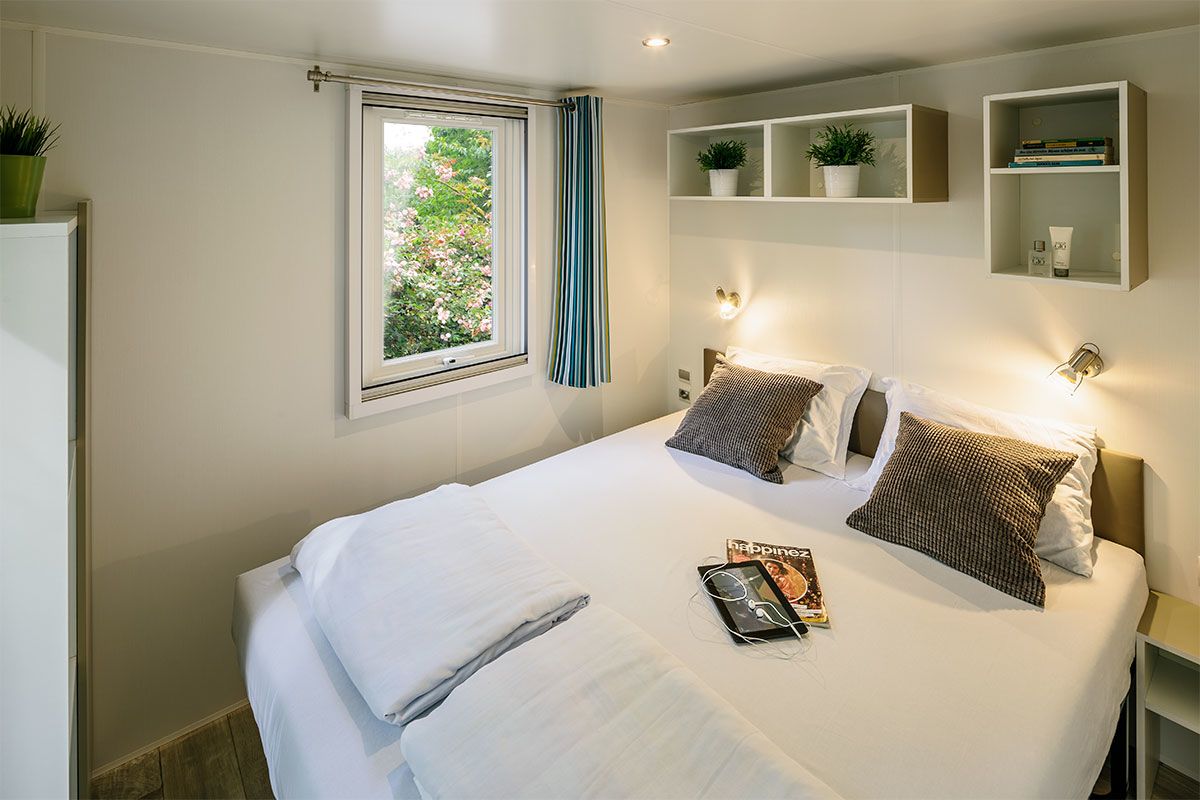 Sleeping
Mobile home Comfort Lounge has 2 bedrooms. De parents bedroom has a double bed (2.00 x 1.40m) and in the children's bedroom you will find either two single beds or two single beds and another bed transverse on height of a kid.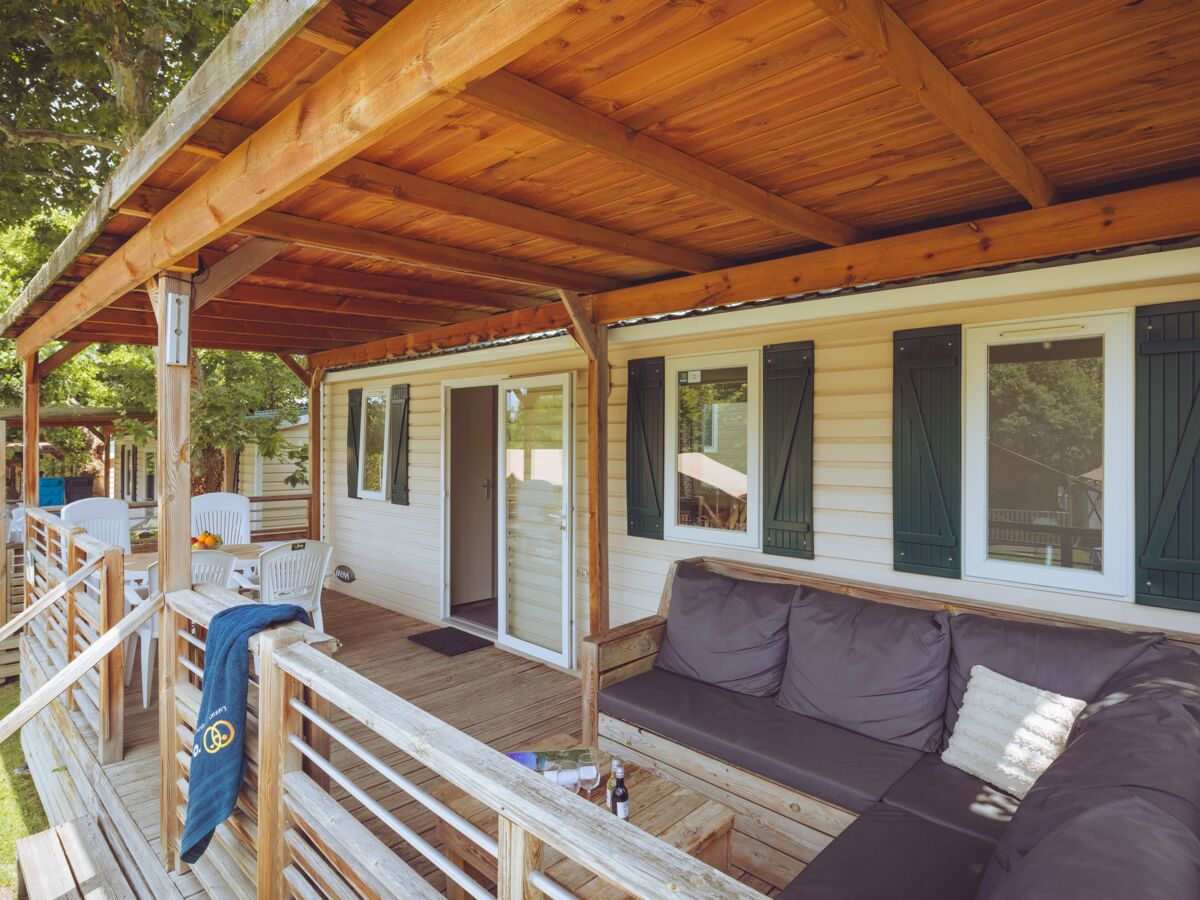 Outdoor living
Comfort Lounge has a semi-covered, wooden decking with luxury floating parasol, a outdoor lounge sofa, a large garden table, 2 adjustable chairs, 4 tub chairs, a sun lounger, a drying rack and light. At some campsites the decking is fully-covered. If charcoal is allowed on the campsite then you will have a charcoal barbecue else you will have a gas barbecue. The Comfort Lounge mobile home can accommodate up to 6 persons. However, for more comfort, we recommend a maximum of 5 persons.
Photos and sketches are provided to give an impression of the accommodations; the map (and colours) can vary from campsite to campsite.
More information
| | |
| --- | --- |
| Max number of people | 5 or 6 persons (campsite depending) |
| Air conditioning | Included |
| Heating | Included |
| Electricity | Included |
| Arrival | Between 16:00- 20:00 |
| Departure | Between 07.00 - 10.00 |
| Deposit | Max. €100 per reservation via SEPA form |
| Pets | Not allowed |
| Non smoking | ✔️ |
| | |
| --- | --- |
| Type of terrace | Luxury floating parasol (collapsible), sun shade sail canopy or fully-covered wooden roof |
| Outside furniture | Table with 2 adjustable chairs and 4 bucket chairs |
| Loungeset | Luxury lounge sofa with ample cushions |
| Barbecue | Included a free barbecue or griddle |
| Clothes airer | ✔️ |
| Outside light | ✔️ |
| Other information | |
| | |
| --- | --- |
| Type of fridge | Large refrigerator with freezer section |
| Type cooker | 4-burner gas stove |
| Coffee machine | Filter coffee maker |
| Fire blanket | Standard in the accommodation |
| Extractor Fan | ✔️ |
| Inventory | A very extensive kitchen inventory is available |
| | |
| --- | --- |
| Bathroom | Shower, wash basin and toilet |
| | |
| --- | --- |
| Single linen pack | Pack with: 1 pillowcase, 1 single duvet and 1 sheet |
| Double linen pack | Pack with: 2 pillowcases, 2 single duvets and 1 sheet |
| Towel pack | Set of 2 towels of 140 x 70 cm. |
| Beach towel pack | A set of 2 luxury, big beach towels of 180 x 100 cm |
| Travel cot | You can book a travel cot for children up to 3 years. This travel cot does not include a mattress |
| Highchair | High chairs can be reserved for young children up to 3 years |
| Stroller | Hire one of our comfortable, sturdy strollers |
| Pull-along wagon | At many campsites you can rent the pull-along wagons. On the campsite pages is indicated if you can rent a pull-along wa |
| Next-door guarantee / pitch-Guarantee | At many campsites, we can guarantee you a pitch next to your friends or family of choose for our Pitch-Guarantee |
| More information | We recommend reserving all extras in advance. These extras are generally available. However, we cannot guarantee anythin |
| | |
| --- | --- |
| Living area | Seating area with couch, stool and a table |
| Sleeps | Optional 6th person to sleep on couch |
| Television | Flat screen TV |
| | |
| --- | --- |
| Number of bedrooms | 2 |
| Bedroom 1 | Double bed (2.00 x 1.40m) |
| Bedroom 2 | 2 single beds or 2 single beds and a bed placed diagonally |
| Pillows and duvets | All come with pillows and single duvets (synthetic) |
| Mosquito blinds | All bedroom windows are fitted with mosquito screens |
| Bed guard | You can rent the bed guard for free for children up to 3 years. |