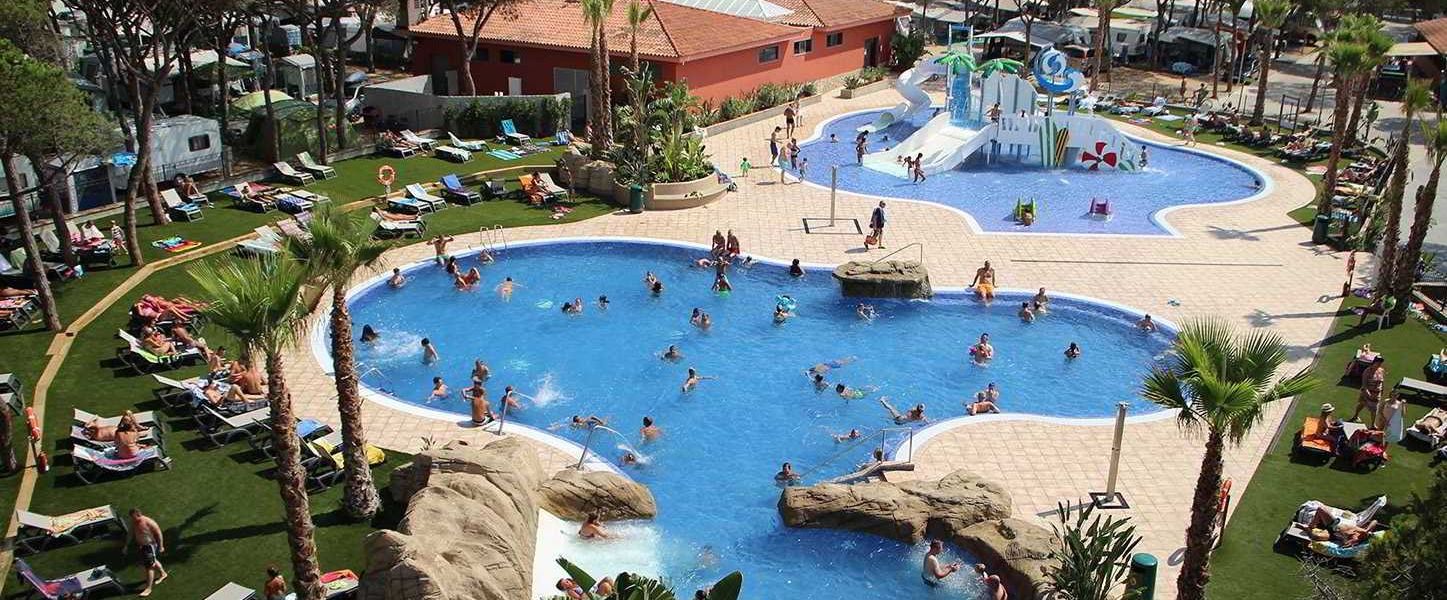 Last-minute deals on campsites on Costa Brava
Fancy a last-minute holiday at one of our campsites on the Costa Brava? Check out our last-minute deals and book your camping holiday with Roan now!
La Masia
Spain - Costa Brava - Blanès
2 fine pool complexes with children's baths
Accommodations 5 minutes' walk from the beach
In the middle of the new centre of Blanès
Cala Canyelles
Spain - Costa Brava - Lloret de Mar
Swimming pool with 2 great new slides
Fun playground and entertainment for kids
Picturesque Tossa del Mar is located nearby
Playa Brava
Spain - Costa Brava - Playa de Pals
Nice swimming pool with lawn and children's pool
Mobile home'y położone na zacienionych stanowiskach
The village of Pals just 5 km away
Valldaro
Spain - Costa Brava - Platja d'Aro
Beautifully landscaped and with many amenities
Playa d'Aro is located less than a kilometre away
2 swimming pool complexes with large grassy areas
Cala Gogo
Spain - Costa Brava - Platja d'Aro
Fabulous swimming pool complex with 5 slides
Mobile homes near swimming pool with bar
Platja d'Aro resort is 30 minutes away on foot
Thu 26 Aug - Thu 02 Sep
Before €963.90
Now €778.52
Mon 30 Aug - Mon 06 Sep
Before €1,034.71
Now €803.19
Tue 24 Aug - Tue 31 Aug
Before €1,285.24
Now €1,035.58
Bella Terra
Spain - Costa Brava - Blanès
Ample children's pool with a fun water playground
Mobile homes on beautiful pitches near the pool
Within walking distance of the lively town of Blanes
Thu 26 Aug - Sat 04 Sep
Before €1,364.00
Now €1,098.59
Thu 19 Aug - Thu 26 Aug
Before €2,125.44
Now €1,707.75
Sat 28 Aug - Sat 04 Sep
Before €933.00
Now €753.80
Similar campsites
Playa Montroig Camping Resort
Spain - Costa Dorada - Montroig del Camp
Great swimming pool complex with 4 large pools
All mobile homes are located in attractive rows
Cambrils and Reus are a short distance away
Bijela Uvala
Croatia - Istria - Poreč
In total 3 pool complexes with children's pools
Cosy restaurants and bars at the campsite
Tourist train to the charming village of Porec
Altomincio Family Park
Italy - Lake Garda - Valeggio sul Mincio
Massive pool complex with various slides
Mobile homes arranged in attractive rows
Picturesque Peschiera just 10 minutes away
Last-minute holidays at the Costa Brava coast
Do not wait too long to book! Our top destinations on the Costa Brava coast are very popular. Stay in a truly luxurious mobile home for next to nothing!
For many years, the Costa Brava has been a very popular choice among many holidaymakers. Besides the stunning sandy beaches and fantastic weather, there is always plenty to do along the Spanish coast. Why not take a day trip to the magnificent city of Barcelona and explore its wonderful sights, including the Sagrada Familia?

Tossa de Mar, Platja d'Aro and Blanes are also great places to visit. Soak up the friendly atmosphere there whilst browsing around the shops or relaxing on a terrace and sampling the delicious local specialties.

Check out all our fantastic last-minute deals to the Costa Brava and book your camping holiday now! Relax and enjoy your holiday, while profiting from our incredible last-minute deals!