Lodge tent Summer
Covered decking
Camping experience with lounge comfort
Wooden decking with lounge sofa and lounge chair
2 sleeping cabins, up to 5 persons
New in 2022 is the lodge tent Summer! Our lodge tent Summer has 2 bedrooms, a complete inventory and a spacious wooden decking! The fixed awning extends over the entire decking, which makes it easy to increase the living space.
Specifications
2 Bedrooms, up to 5 persons
Electric fan
Wooden decking, covered with canopy
(Child) gate to close off the deck
Lounge sofa on the decking
Free pillows and duvets
28 m2
Lounge chair on the decking
Living
The Summer lodge tent is placed on a decking and the total living area is no less than 28 m2 (incl. decking). The living area includes a wooden table with 2 wooden benches and a sturdy wooden cabinet with open shelves. The kitchen area of the lodge tent Summer consists of a large fridge with separate freezer, a 4-hob gas cooker, a full inventory, a coffee maker, a kettle and a fan. The lodge tent also has a drying rack, a mosquito net and, of course, cosy lighting. The lodge tent also has a drying rack, a mosquito net and, of course, cosy lighting. The tent also comes with a heater for cooler weather.
Sleeping
There are two bedrooms in the Holiday lodge tent. The first bedroom has a double bed, 2 m long and 1.60 wide. The second bedroom has 'triple bunk bed' with three beds of 2.00 m by 0.80 m (two beds above each other and the third bed in the middle is at right angles to it). All our beds come complete with pillows and single duvets, which saves you bringing a lot of extra luggage!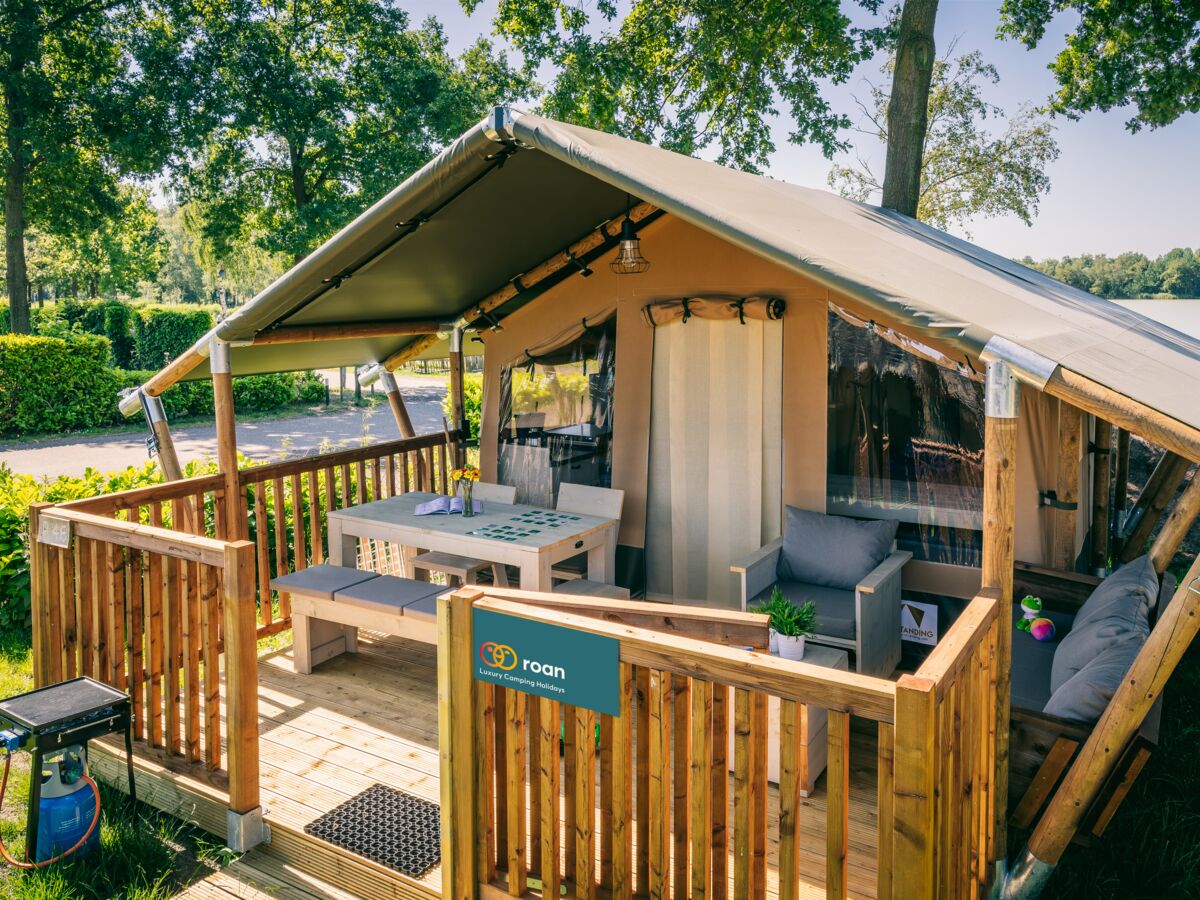 Outdoor living
The wooden decking is always lockable with a gate and has a lounge sofa with cushions, a lounge chair and a dining table with a bench on one side and 2 sturdy wooden chairs. You will find a free charcoal barbecue, gas barbecue or grill with the lodge tent Summer. On each campsite page you can read which barbecue is available in the lodge tent at your favourite campsite.
Photos and sketches are provided to give an impression of the accommodations.
More information
| | |
| --- | --- |
| Living area | Table inside |
| Fan | ✔️ |
| | |
| --- | --- |
| Single linen pack | Pack with: 1 pillowcase, 1 single duvet and 1 sheet |
| Double linen pack | Pack with: 2 pillowcases, 2 single duvets and 1 sheet |
| Towel pack | Set of 2 towels of 140 x 70 cm. |
| Beach towel pack | A set of 2 luxury, big beach towels of 180 x 100 cm |
| Travel cot | You can book a travel cot for children up to 3 years. This travel cot does not include a mattress |
| Highchair | High chairs can be reserved for young children up to 3 years |
| Stroller | Hire one of our comfortable, sturdy strollers |
| Pull-along wagon | At many campsites you can rent the pull-along wagons. On the campsite pages is indicated if you can rent a pull-along wa |
| Next-door guarantee / pitch-Guarantee | At many campsites, we can guarantee you a pitch next to your friends or family of choose for our Pitch-Guarantee |
| More information | We recommend reserving all extras in advance. These extras are generally available. However, we cannot guarantee anythin |
| | |
| --- | --- |
| Number of bedrooms | 2 |
| Bedroom 1 | Double bed (2.00 x 1.60m) |
| Pillows and duvets | All come with pillows and single duvets (synthetic) |
| Bed guard | You can rent the bed guard for free for children up to 3 years. |
| Bedroom 2 | Triple bunk bed |
| | |
| --- | --- |
| Max number of people | 5 persons |
| Air conditioning | Exclusive |
| Heating | Included heating |
| Electricity | Included |
| Arrival | Between 16.00 - 22.00 |
| Departure | Between 07.00 - 10.00 |
| Deposit | Max. €100 per reservation via SEPA form |
| Pets | Not allowed |
| WiFi | Exclusive |
| Non smoking | ✔️ |
| | |
| --- | --- |
| Type of fridge | Large refrigerator with freezer section |
| Type cooker | 4-burner gas stove |
| Coffee machine | Coffee maker |
| Kettle | ✔️ |
| Inventory | A very extensive kitchen inventory is available |
| | |
| --- | --- |
| Type of terrace | Decking with a fixed canopy, with a gate, which can be locked |
| Barbecue | Included a free barbecue or griddle |
| Clothes airer | ✔️ |
| Outside light | ✔️ |
| Loungeset | Double-seated lounge sofa with ample cushions and lounge chair |
| Outside furniture | Table with bench and 2 wooden chairs |